Using the salon as the venue,
evacuees participate in a variety of activities such as meal parties and Christmas wreath-making.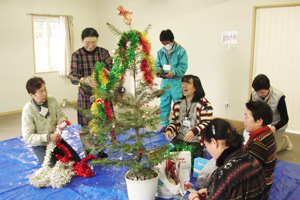 ▲Participants decorate a Christmas tree,
using ornaments donated by O-tama Mura Council of Social Welfare
419 people in 211 households who evacuated from Tomioka-machi now live in "Otama-mura Adatara" temporary housing, which is located in the Tamanoi area of Otama-mura. The residents, with many organizations such as Otama-mura Council of Social Welfare and JICA Nihonmatsu office, organize fun activities in three meeting places. The idea to organize activities on Tuesdays came from healthcare visits for the evacuees by nurses who are working for St. Luke's International Hospital. Members of A-Coop (Agricultural Cooperative) also organize salon activities every Thursday. Normally, there are thirteen to fifteen participants for each activity. Gradually, more and more people expressed their willingness to do something for others, and on one occasion, a lunch party for evacuees who live alone in the temporary housing was also organized.
▲Wreaths were delivered to a day-care center located near the temporary housing.
Christmas wreath-making and decorating a Christmas tree were also initiatives originated by the participants. Akiko Nemoto, livelihood support counselor in Tomioka-machi Council of Social Welfare, said "Approximately 50 wreaths were made, and the Christmas tree, which we decorated today, will be moved into a meeting place. A Christmas party is planned for 21st of December, and there will also be a Shishimai (lion dance performance) visit during the New Year holiday. We are very much looking forward these events". Having fun events awaiting us in near future is one tip to make life happier. Ms. Nemoto said that in new year she would like to continue salon activities with the motto "Be cheerful! Be energetic!"
(interview on December 2nd, 2011)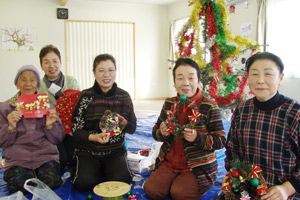 ▲The participants making Christmas requested wreaths.
Someone joked
"You know, the more we make the better we get, maybe one day we will become professionals",
about which the others laughed.