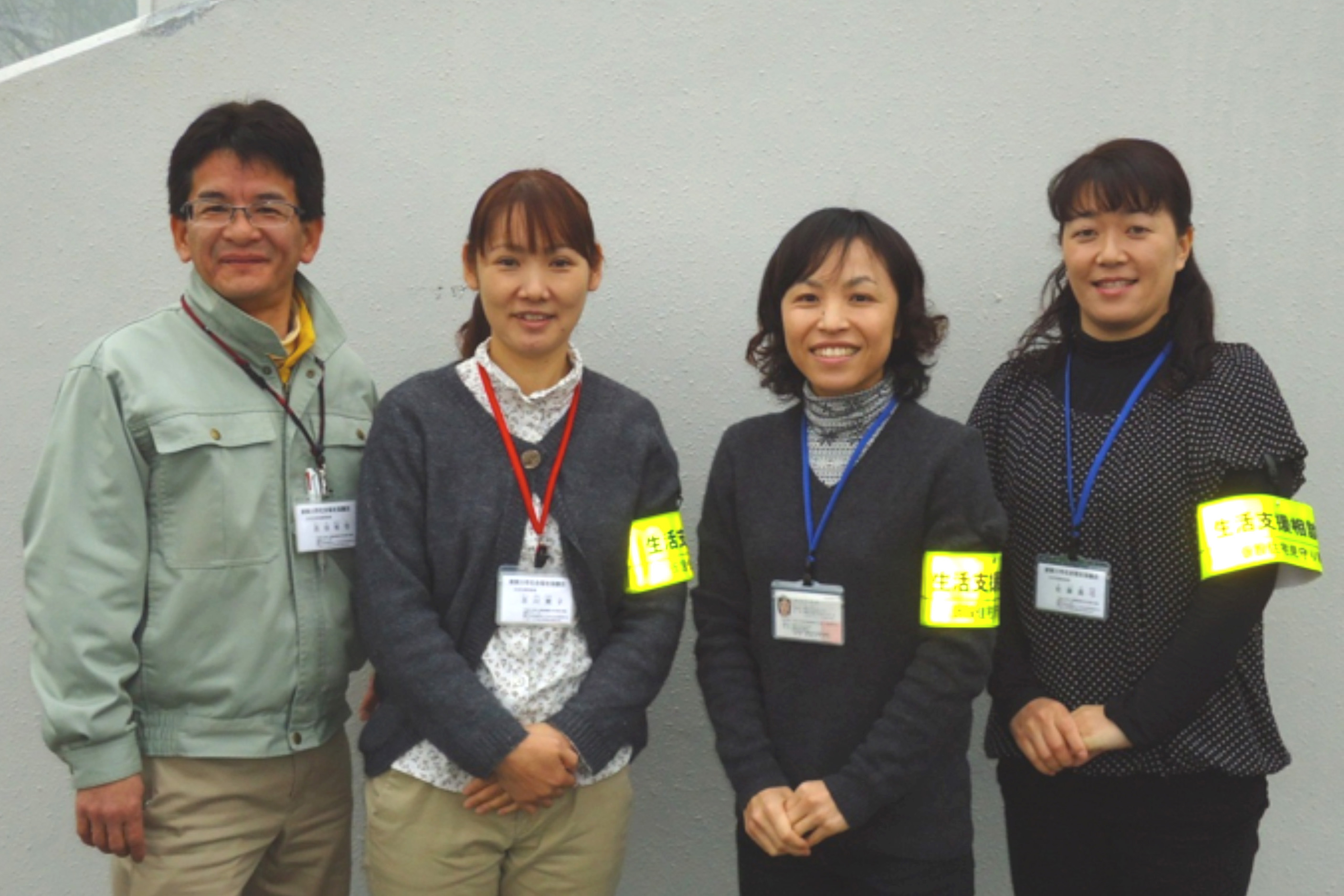 From left: Yuji Yoshida, Hiroko Yoshikawa, Taeko Takemura and Mayumi Sato
With 9 months already passed since the earthquake, serious efforts for reconstruction are underway. As of October 2011, there are four livelihood support counselors in Sukagawa City Council of Social Welfare. We would like to continue doing our best for the reconstruction with everyone. Below are our messages related to our daily activities.
○Though we can clearly see reconstruction of the affected areas going on, we cannot clearly see the evacuees' mental care needs. Therefore, we must carefully and continuously treat these needs. Even though there remains concern about the nuclear accident and worries about daily life, we would like to continue our work, always keeping in mind to see things from the evacuees' point of view and proceed in the same direction as them as much as possible.
(comment by Yuji Yoshida)
○Through my daily work, I repeatedly think about the importance of mutual support. Especially, I was heartened by seeing people helping each other and also their welcoming smiles even though they had been forced to evacuate a second time because of flooding due to typhoon No. 15. I would like to continue my work so that I can support evacuees as much as possible.
(comment by Hiroko Yoshikawa)
○I came across many difficulties doing my work. I wasn't sure what the best way was to support the people, or what I should do. It was all trial an error. Although I felt insecure doing my work, the words 'Thank you' supported and motivated me. I am determined to continue my work side by side with the evacuees.
(comment by Taeko Takemura)
○During my work, I worked for an evacuee who was forced to evacuate twice, once because of the earthquake, and a second time because of flooding. One day, with tears in her eyes, she spoke to me about problems related to the stress and difficulties in relationship with others. She said "you are the very first person I am telling this: I am happy that now I can share my feeling with someone else". That was the moment when I felt my choice to become a livelihood support counselor was the right one. I feel my role is to support the evacuees so that they can feel relaxed and they can spend their lives without anxiety. I am learning from every task of my work.
(comment by Mayumi Sato)