'Hands-on' massage eases evacuees' exhaustion – "Thank you. I feel my back nice and warm."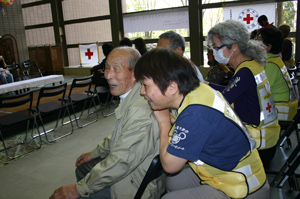 ▲Relaxation through physical contact,
brought a smile to one of the evacuees saying "I feel my back nice and warm."

Belonging to the Fukushima Disaster Volunteer Liaison Council, the Japanese Red Cross Society Fukushima Branch has provided a variety of support since the outbreak of the disaster. Its activities range from sending medical teams, blankets and many other disaster-relief goods to the people in need, to disaster-relief soup-kitchens at shelters organized by volunteer groups. "We are well-trained to be able to act whenever needed, and we did so immediately after the quake," says Ms. Reiko Takeda.
The Aizuwakamatsu City Red Cross Female Volunteer Group organized disaster-relief soup-kitchens for a month from March 16 at the Fureai Gym shelter in Aizuwakamatsu. Volunteers cooked three meals every day to serve hot meals to the suffering evacuees. Other volunteers are helping evacuees feel happy in the midst of hard times. In the Azuma Sogo Gym, Fukushima City, the Fukushima Medical University Red Cross Volunteer Group held craft workshops for children; while the Red Cross Fukushima Volunteer Group conducted a tea ceremony event, "Green Tea for Relaxation," in cooperation with the Sohen Tea School's Saito Group.
Takeda says, "Evacuees have just survived with little more than the clothes they were wearing. We would like to continue a variety of activities to support them until they feel secure in daily life." She is always ready to respond to calls and requests from evacuees after they leave the shelter and start living in temporary house.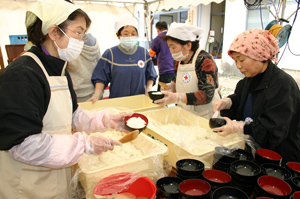 ▲Aizuwakamatsu City Red Cross Female Volunteer Group cooked meals for one month at a local shelter. There are 147 Red Cross volunteer groups across Fukushima prefecture, with 14,000 volunteers registering to act.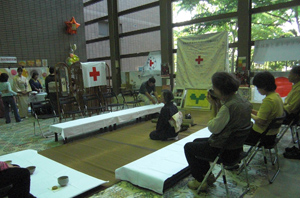 ▲"Green Tea and Relaxation" – a joint event of the Red Cross Fukushima Volunteer Group and the Sohen Tea School's Saito Group