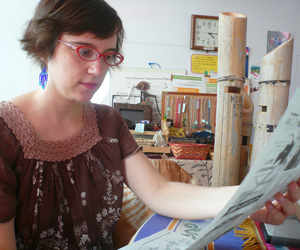 Freelance Translator/Interpreter
Ms. Frauke Arndt-Kunimoto
(resides in Germany)

Hi! I'm a German who has lived in Japan for 4 years. I studied Japanese and English in university.
After the earthquake, I searched for things I could do to help and became a volunteer translator. I'm also involved in the English edition of this magazine. I have never actually visited Fukushima, but every time it appears in the news, it reminds me of the people featured in this magazine.
We must raise our voices globally, to establish radiation safety standards and other measures to protect the children. Even though they may be far away, I hope more people around the world will feel that Fukushima is not another person's problem but is related to themselves.