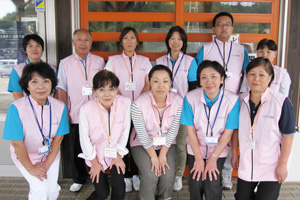 Back row from the left; Yayoi Aoki, Noboru Sato, Mitsuko, Sato, Emiko Osawa, Takatoshi Kagami and Kazuyo Kanno.
Front row from the left; Rumiko Abe, Kikuyo Akaishizawa, Junko Kanno, Teruko Sato and Akiko Akaishizawa.
We, the livelihood support counseling team is divided into of 5 groups which are made up of 6 members from the Itate-mura Council of Social Welfare and 5 members from the Prefecture's 'Kizuna-zukuri Oen Jigyo' (community bond-making support project). The team consists of members from a wide age range, from those in their 30s to those in their 60s. We are a powerful, sympathetic and friendly team.
We visit each temporary house every day and are strongly touched by the worries and distress of the residents whose lives have changed completely from life in the village.
To solve these mental problems, we try to build a close relationship with the residents and work together with the village's disaster counter-measures team, community general support center and public health nurses.
We have continued our activities for 3 months now. The villagers' warm welcoming smiles encourage us and with this exchange of smiles we intend to do our best until the day when everyone returns to the village.