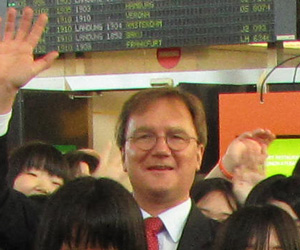 Christoph Feichtenschlager,
Youth Exchange Committee Chairperson
International Rotary (Austria District)
(Promoters who invited 21 high school students from Fukushima who were victims of the Tohoku Earthquake, to Austria for three weeks)

In a situation like this disaster and nuclear accident, people who can think of various possibilities and have indiscriminate courage are needed. By inviting high school students from the disaster hit area, albeit a small number of them, we feel we were able to give them an opportunity to look at the events of March 11th, their experiences and life objectively, and by doing so were able to be of assistance to Japan.
Their time in Austria, offered them an opportunity to understand each other more deeply. We were delighted to see smiles return to their faces, and we feel that they will play an important role in the future development of Japan.