Get Recharged for Tomorrow: Sing Karaoke on the Mobile Karaoke Bus!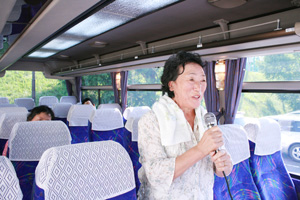 ▲"For a long time I didn't feel like singing, but I feel so refreshed after I did today", says Ms. Toshiko Kanno. Ms. Kanno currently is an active member of a neighborhood watch group of Iidate-mura.
There are four temporary housing sites in Kunimi-machi in Date-gun, located in the northernmost area of Fukushima Prefecture, where evacuees from Kunimi-machi and Iidate-mura reside. In this month's issue, we will feature a teatime gathering that became more fun than usual when the residents signed up for the "Mobile Karaoke Bus: Promoting Exchange in the Fukushima Emergency Temporary Housing Community".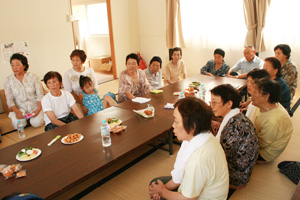 ▲The Mobile Karaoke Bus attracted a large crowd from the nearby temporary homes who wanted to sing at today's teatime gathering

The Mobile Karaoke Bus that came to Kunimi-machi is part of the reconstruction effort by the Trade Association for Entertainment, Food and Environmental Hygiene of Fukushima. On this day, after enjoying a chat at the assembly hall, attendees moved to the bus, and sang their heart out with their favorite songs. "I came today because things have settled down quite a bit. As I sang, I was remembering a trip to the hot spring I took with the senior citizens' club. Singing really refreshes you", commented Ms. Hatsuyo Sato. Since the earthquake, everybody had forgotten to sing at all, but this day was filled with smile after smile. Ms. Fumiko Matsuura, a welfare commissioner of Kunimi-machi, who joined the event to promote exchange within the community, said: "It is so nice to see everybody smile. I met a former welfare commissioner from Iidate-mura, too. I am so happy I came today. I now plan to spread information about this opportunity to evacuees who live in rented apartments, and help promote exchange among them, too". A temporary home may indeed be temporary, but it is an important place where daily life keeps on going. Your usual teatime gathering can be spiced up with fresh ideas. We recommend that you try something like this in your area, too!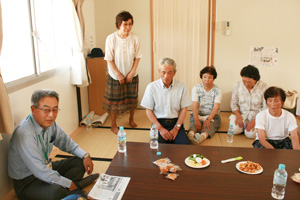 ▲Ms. Fumiko Matsumura, a welfare commissioner greets everyone at the assembly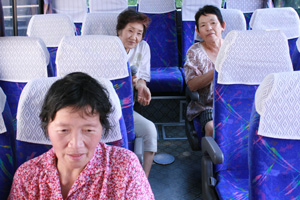 ▲Occasional applause showed that everybody was having a good time singing Karaoke, which they hadn't had a chance to do in a long time