In a bid to support all of you to live without anxiety in temporary housing, the Council of Social Welfare will welcome 157 staff assigned as living-support consultants.
What are the roles they will play?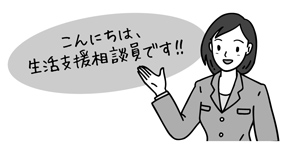 Greetings, we are the livelihood support consultants!!
You might call it temporary, but don't you find two years quite a long period of time? We would like to extend our support to help you have a positive and comfortable life for the period of two years. If you meet one of our living-support consultants, please feel free to talk to us.


These are the roles we will play …


1) Community Support
We will assist all of you who moved into the temporary housing in associating with neighbors and in cooperating with each other. The management of the socializing salon utilizing a meeting room or a conversation lounge is also a part of our services. This will provide a chance to make new friends. Please come and join us.


2) Individual Support
With a view to grasp the problems concerning the welfare and lives of the victims of the Great East Japan Earthquake and to secure for them the availability of welfare and living-support services, our staff will provide consultation and make various adjustments accordingly. We will work with you to make adjustments in procedures by cooperating with administrative bodies or coordinating with private businesses in matters that are difficult to handle by yourselves.