Producing enjoyment for temporary housing life My Town Market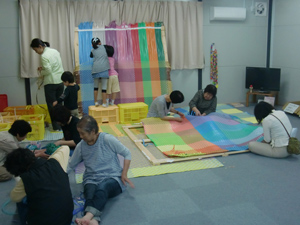 ▲Adults as well as children find themselves engrossed in weaving mats.
Mats are made of polypropylene packing band, provided by Endo & Co.

My Town Market, proposed by contemporary artist Mr. Jun Kitazawa who has been involved in volunteer activities in Shinchi-machi since April, is an amusing project launched in June, with the cooperation of Shinchi-machi Council of Social Welfare and Fukushima Disaster Volunteer Center. "Starting with weaving mats to be placed under stalls (shops), the event is about holding a market. All these are shops that you would find in any town: post office, library, café, beauty salon, and school, from which the participants choose models to set up their stalls on a small scale. A number of such booths lined up compose a small town. To begin with, the aim of the project is to let everyone re-experience the town and enjoy it" said Mr. Kitazawa. We interviewed participants on the day of their discussion to talk about the kinds of shops to be set up. "A café should have some cakes. I guess I should ask my mom, as she is good at making them.", "How about a photo shop? They can take photos of the visiting shoppers", "What about a variety shop?" and so on, children gathered at the meeting came up with lots of ideas. "A good point about this project is that both adults and children can casually take part in it. Weaving the mat is also open for all to join. Just come over to the meeting place, you can always find someone weaving. As people come together, there will be more communication, and that also provides an environment for them to keep caring eyes on each other in a natural way." said Mr. Takashi Yokoyama, the chairman of the local community association. My Town Market creates amusement for life in temporary housing. Holding the market on a regular basis might not be a mere dream. (June 27th, 2011)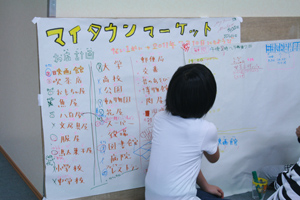 ▲People discussing what sort of shops to be set up for "My Town Market", which will be held in an open space in the temporary compounds in Ogawa Park, Shinchi-machi (July 10th, 2011).